Home
»
Our Products
» Consumables
Consumables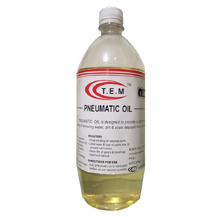 TEMTM Pneumatic Oil
Product Code- TEM/PO/001
TEM
TM
Pneumatic Oil is designed to provide a fast lubricating action and a process of removing water, dirt and scale deposits from Pneumatic Tools.
The use of Engine Oil, Gear Oil or Hydraulic Oil (being viscous) poses below mentioned harmful effects on various pneumatic tools:
Stickiness of internal parts.
Wear and tear of parts due to improper lubrication.
Jamming of gears and bearings.
Low torque.
Accumulation of deposits inside Tool/ QRCs/ PU Hoses etc.
While use of TEMTM Pneumatic oil overcome all these above mentioned effects, as it poses various benefits such as:
Cooling effect and lubrication.
Free sticking of internal parts.
Less wear and tear due to proper lubrication.
More life of gears and bearings.
Optimum torque.
No or very less deposition of grease.
Available in Pack size of 1 ltr and 5 ltrs.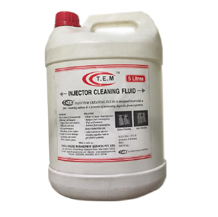 TEMTM Injector Cleaning Fluid
Product Code- TEM/ICF/002
TEM
TM
Injector Cleaning Fluid is designed to provide a fast cleaning action and a process of removing deposits from injectors.
Due to deposit formation, the following problems occur:
Higher fuel consumption.
Difficult cold start.
Less performance.
Knocking of the engine leads to severe damage of pistons and valves.
More exhaust gases.
While the use of TEMTM Injector Cleaning Fluid overcomes all these above mentioned effects, as it poses various benefits such as:
Cleans and keeps clean injectors.
Free sticking of internal parts.
Reduce fuel consumption.
High performance.
Lesser exhaust gas emission.
Available in Pack size of 1 ltr and 5 ltrs.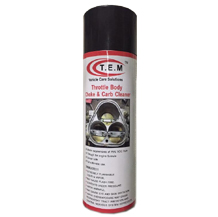 TEMTM Throttle Body Choke and Carb Cleaner
Product Code- TEM/TBC/003
TEMTM Throttle Plate & Intake Cleaner meets requirements of 75% VOC Rule
Through the engine formula
Senser Safe
Cleans & Lubricates Throttle body assembly, carburetors, automatic chokes, linkages & pcv valves.
An oxygen sensor - designed to penetrate, loosen and flush away varnish, oil and gum deposits from throttle plate, automatic chokes, Linkages, PCV Valves and carburetors. May be used to clean throttle & carburetors when the engine is running. TEM
TM
Throttle plate and Intake Cleaner will leave no residue on external surfaces and will burn completely when run through the engine.
Benefits
Unique Formulation to clean throttle plate of new generation cars
Through-the-engine formula
Cleans throttle plates, automatic chokes, linkages, PCV valves and carburetors
Lubricates throttle plate linkages
Fast cleaning action for dirty throttle plates
Cleans & lubricates
Can be used on cold, warm and running engines
Oxygen sensor safe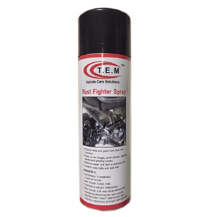 TEMTM Rust Fighter Spray
Product Code- TEM/RFS/004
Lubricates, Penetrates, Prevents Rust
General Purpose, All-Round use wherever a light oil is needed
Cleans and Lubricates Hings, Frees Rusted Bolts, Displaces Moisture
TEM
TM
4-Way Spray is an aerosol, rust preventive, penetrant, demoisturant and lubricant. It is an excellent lubricant for delicate instruments. 4-Way spray leaves an ultra-thin film that inhibits rust and corrosion. It displaces moisture and "dries out" electrical ignition systems, generators, motors, etc.
Features
Mutli-purpose light oil formula
Lubricant
Penetrant
Rust preventor
Demoisturant
Application
Rust & corrosion prevention by depositing an ultra-thin film that coats and penetrates the surface pores of metal
Excellent penetration properties to quickly free rusted bolts & nuts
Relieves binding of sliding parts
Displaces moisture to dry out damp electrical parts, improve electrical circuit conductivity
Lybricates metal, plastic or rubber moving parts
Handy snorkel tube aids application on hard-to-reach areas
TEMTM Battery Terminal Coat
Product Code- TEM/BTC/005
TEMTM Battery Terminal Coat ensures terminal protection by evenly spreading on to the terminals. Blue color allows the user to identify the application area easily. Regular usage of this product ensures longer battery life.
Benefits
Protects battery terminals from Sulphonation. Improves electrical contact efficiency. Help increase battery life
Application
Battery terminals & plug wires
TEMTM Wet Sprayable Grease
Product Code- TEM/WSG/006
TEMTM Sprayable Grease is a lubricant basedformula developed to maintain long-lasting lubrication on automotive door hings, door locks, chains, linkages, bushes, etc.
Benefits
Non-dripping, non-staining lubricant with excellent penetrating property. Generates long lasting lubricant film. Sprays like oil and sticks like grease
Application
Chains
Gears
Linkages
Door hings
Automotive door locks
TEMTM Belt Dressing Compound
Product Code- TEM/BDC/006
TEMTM Belt Dressing Compound sticks to the belt's inner area to provide long lasting, non-slipping grip to the belt..
Benefits
Protects betls from excessive wear and tear. Increases transmission efficiency, eliminates screenhing noise, improves belt life. Helps reduce weathering effect on belts. Increases air-conditioner cooling efficiency if used on A/C drive belt.
Application:
Engine belts, A/C belts
TEMTM Window Channel Dresser and Lubricant
Product Code- TEM/WCD/008
TEMTM Window Channel Dresser & Lubricant is a special product which keeps rubber channels of automotives soft and does not allow them to harden. Ensures smooth glass up & down movement, reducing possibility of rubber getting damaged in the long run.
Benefits:
Protects rubber parts from weathering effect. Non-staining, long lasting lubricant. Ensures smooth up & down movement of powered and manual window glasses. Gives protection coating to rubber channel of window beading to prevent hardening and porouseness
Application:
Rubber channels of windows & beading
TEMTM Dry Silicon Lube Spray
Product Code- TEM/DSL/009
TEMTM Silicone Lube Spray is a silicone based product which seals electrical parts and ignition systems from moisture and lubricates electrical switches, instrument panel electrical connectors & insulators, etc. It is an excellent Di-electic sealant. It gives corrosion protection on chromium, magnesium and aluminum parts and keeps rubbers & plastic soft.
Benefits
An excellent lube spray with Di-electric sealant properties. Chemically inert, anti-corrosive protective coating & hihgly water repellant
Application
Ignition equipments
Electrical insulators
Bushings
Wiper rubber
Instrument panel equipment & cables
Sockets Electrical junction box
Electric meters, rubber & plastic weather strips
Aerials, chromium & metal fittings