Home
»
Our Products
» Garage Equipments
Garage Equipments
Compressed Air System Components
Air Compressor- 7.5 HP and 10 HP
| | | | |
| --- | --- | --- | --- |
| S.No. | Description | 7.5 HP | 10 HP |
| 1 | Size | 4" & 2-1/2" X 2-3/4" | 5" & 2-3/4" X 3.1/2" |
| 2 | Speed | 1100 RPM | 950 RPM |
| 3 | Piston Displacement | 22 CFM | 37.82 CFM |
| 4 | Max. Discharge Pressure | 175 PSIG | 175 PSIG |
| 5 | Free Air Delivery | 18.19 CFM | 30 CFM |
| 6 | Regulation | Automatic | Automatic |
| 7 | Tank Capacity | 225 Ltr | 300 Ltr |
| 8 | BHP Required | 5.82 HP | 9.17 HP |
| 9 | Motor Required | 7.5 HP | 10 HP |
Air Drier
Features
Pre- filter rating 0.3 microns
Shuttle Valve for low pressure drop
All Aluminium resist oxidation and scale formation
Dewpoint better than -40ºC
Technical Specifications
| | | |
| --- | --- | --- |
| S.No. | Description | Value |
| 1 | Max Working Pressure | 16 kg/ cm2 |
| 2 | Air Inlet Condition | Max Fluid Temp 45ºC |
| 3 | Pre- Filter Rating | 0.3 Microns |
| 4 | Cycle Time | 4 Minutes |
| 5 | Regeneration Volume | 10% |
| 6 | Air Outlet Conditions | Dry Air at -40ºC |
| 7 | Operating Voltage | 85- 265 V/ 60 Hz 1 Ph |
Moisture Separator with Auto Drain Valve
Moisture Separator with Auto Drain Valve- Condensation is property of compressed air. When it travels from one point to another, it again condenses and gives the vapors or moisture. For treating that, we provide Moisture Separator with Auto Drain Valve which would remove all moisture from the air and drain the water and keeps the air compressor healthy.

Wet- o- Dry Vacuum Machine
Specifications:
Wet o Dry Type
2 high efficiency motors.
Double electrical insulation.
Suction system with bypass cooling.
Accessory storage facility.
Stainless steel tank.
Power tool socket (max 2200 W) with electronic board to stop vacuum function.
Power cable holder.
4 pivoting wheels.
Metal closing hooks.
Rotating ON/OFF switch with 3 positions.
Power cable 5 m.
Flex hose 2.5 m
Pneumatic Tools and Accessories
| | | |
| --- | --- | --- |
| Impact Sockets | Impact Wrench | Ratchet Wrench |
| | | |
| Filter, Regulator and Lubricator with Gauze | PU Coiled Hose | High Pressure Hydraulic Hose |
Air Gun
It comes under two ranges:

1. Air Blow Gun with rubber nozzle- It is used for working on the soft materials that must not get damaged due to accidental touch.
2. Air Blow Gun with Stainless Steel Nozzle- It has a vent in the tip that prevents pressure from exceeding 30 PSI if tip becomes blocked. The stainless steel nozzle offer highest resistance to corrosion. The nylon body offers highest resistance to impact and change in temperature. The soft, rubber moulded grip makes it highly convenient in use and helps eliminate the risk of Carpel Tunnel Syndrome. It has a variable speed trigger which allows control on the amount of air flow. It is especially good in reaching in shoulders and hard to reach points.
Fresh Oil/ Coolant Management System Components
1. Matrix Meter - The wireless transmission and reception of meter makes it simple to track your entire facility's activities. The meter has multi-level security to protect your assets. It provides precise measurement and control of fluids to ensure profits and eliminate out of stock issues for critical inventory.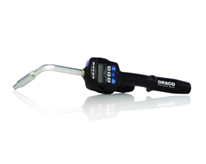 2. Preset Type LD Meter- It is ideal for metered oil and dispense for lighter duty applications, including small maintenance shops, tire-muffler shops, fast-lubes, independent repair facilities and lower volume in-plant applications.

It is designed for indoor use, with standard flow rates of 5 gpm (18.9 lpm). The meter has 2 features manual and preset with a number of optional accessories to choose from. The LCD display is easy to read with durable switches for long life. It has a two-finger trigger. The meter also has a latching trigger to reduce operator fatigue. Rugged meter body results in superior impact resistance and long life. It is ergonomically-designed handle for operator comfort.
3. Piston Pump 5:1- These affordable and full featured pumps are designed for lower volume applications. These pumps are fine-tuned for a compact, flexible and still incredibly durable solution.
4. Hydraulic Hose Reels- It transfers the oil directly in the vehicle. It has a structurally engineered frame. The spool is made from high strength steel that won't bend or flex. The long-lasting spring provides constant spring torque through the entire range of motion. The open swivel ports ensure high fluid flow with minimal pressure loss. The hose reels can rotate up to an angle of 180 .
5. Transceiver- They use a Radio Frequency (RF) signal to facilitate communication between the Matrix PC and other hardware components in the Matrix system. The number of transceivers a Matrix system can support is determined by the type of system (Basic/ Professional/ Premiere).
6. RS 422, USB Converter Used for Big and Multi floor Workshops
7. Operating Software Matrix Software can be networked to multiple PCs in a facility.
Used Oil Management System Components
1. Diaphragm Pump- Pneumatic double diaphragm pumps have an external controller for remote control capabilities. There are no seals to leak or fail. It works on easy-to-use remote muffler capability for even lower noise levels. It has easy-to-service air valve and ball checks.
2. Hydraulic Coupler- A hydraulic quick coupler can quickly and conveniently attach to or be removed from your hydraulic hose without the use of tools.
3. Oil Collection Stationary Tank- This tank is used to place unused oil filters (having burnt oil). The oil filters are placed in inverted position. With the gravity action, the waste oil in filters gets collected in the tank, from where it can be sent to oil drums through a network of pipeline.
4. Trolley Wheel Mounted- This trolley is placed under the vehicle (lifted high up from the ground). Due to gravity action the burnt oil from the vehicle gets collected in the trolley. The trolley also has a level indicator to keep a check on oil quantity.
5. Ball Valve- A ball valve is a valve with a spherical disc, the part of the valve which controls the flow through it. Ball valves are durable and they help in achieving perfect shutoff even after years of disuse.
6. Hydraulic Pipe & Drum Fitting
Exhaust System Components
1. Blower Unit with Stand and 1 hp motor- it creates a positive pressure in the main and Flexible Pipe
2. Pipeline- For travelling of smoke
3. Tapping Attachment- it connects silencer holder to pipeline.
4. Silencer Holder- It holds silencer and carry maximum exhaust smoke
5. Supports and Connectors
Rotary Lifts
1. Scissor Lift
| | |
| --- | --- |
| Model | HS7000N(Surface mounted) |
| Lifting Capacity | 3175kg (7000 lbs.) |
| Lifting Height (without rubber pad) | 1820mm (71-5/8") |
| Minimum Height | 189mm (7-3/8") |
| Overall Width | 1960mm (77-1/8") |
| Overall Length | 4208mm (165-5/8") |
| Width of Platforms | 530mm (20-3/4") |
| Length of Platforms | 1450mm (57") |
| Width Between Platforms | 987mm (38-3/4") |
| Pulling Length of Arms | 525mm (20-5/8") |
| Motor Power | 2.2kw |
| Power Option | 3Ph/220v/50Hz - 60Hz |
2. HPRO9D-
| | |
| --- | --- |
| Model | HPRO9D |
| Lifting Capacity | 4082kg (9000 lbs.) |
| Lifting Height | 2006mm (79") |
| Overall Height | 3619mm (142-1/2") |
| Overall Width | 3403mm (134") |
| Drive Through | 2343mm (92-1/4") |
| Inside Column | 2794mm (110") |
| Lifting Time | 45 seconds |
| Motor Power | 2.2kw |
| Power Option | 3Ph/220v/50Hz - 60Hz |
3. HPRO9F
| | |
| --- | --- |
| Model | HPRO9F |
| Lifting Capacity | 4082kg (9000 lbs.) |
| Overall Height | 111-1/4 |
| Overall Floor Width | 138-1/2 |
| Maximum Lift Height | 81 |
| Minimum Adapter Height | 4 |
| Between Columns | 111 |
| Drive Thru | 97-1/4 |
| Motor | 2 HP, 208-230 VAC, 1PH |
Bodyshop Components
Quick Body Repair Booth
Features:
Customized Solution
Designed as per the space availability
Maximum utilization of space
No harmful fumes
No hazardous fuel required for baking
Low on cost
Less on maintenance
Panel hanging system making more space
Partition inside chamber creating separate room
Infra Red Drier System
500 mm 1Kw High Output GC short wave lamps fitted to 10 cassette.
Twin 30 minute time on both flash and Bake settings.
Power settable on both Flash and Bake cycle.
Distance Indicator with safety cut out if unit is moved too close.
Robust steel constructed stable frame, fitted with rear wheel locking castors.
Maintenance free cassettes with no fan or filter changes.
Individually switched cassettes.
Horizontal or Vertical Cassette Operation.
| | | |
| --- | --- | --- |
| Orbital Sander | Belt Sander | Vertical Sander |
| | | |
| High Speed Reciprocating Air Saw | Heavy Duty Air Hammer | Air Drill |
| | | |
| Air Grinder | Spot Removal Drill | Air Polisher |
Safety First Components
Safety First- Car Hammer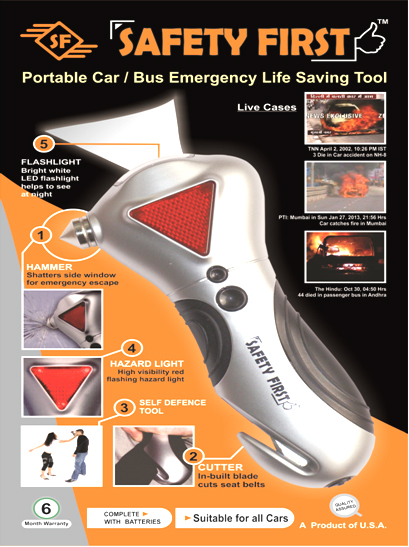 It is a Preventive Tool that can act in emergency to be placed inside car. It is a Portable Tool, and first of its kind in India and is suitable for all cars and buses.
It is a safety device which can be used at the event when one got struck in a car such as:
Road accidents
Fire incident
Heavy snowfallor
Submerged under water
It has various features such as:
An in- built cutter- which can cut seat- belt
A hammer- which can shatter side window
Hazard light-for emergency situation
Flash light- to be used at night for tyre change or engine inspection
Self defence tool
Single piece Magnetic body
Anti Sleep Device
It prevents driver from falling asleep while driving.
It is designed to detect when driver is in danger of DOZING off and immediately alerts driver/ co- passengers.
Prevents a potential crash.
Gets fitted over driver's ear and triggers alert buzzer observing the driver's drowsiness.
LED 3W Professional Head Light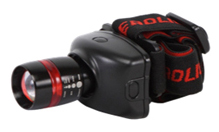 Features:
Super Bright LED Head Light with extra power CREE 3W LED (100 Lumens). Comes with ABS Body with machined Aluminium lens holder. Adjustable head positioning with foam pad to prevent chafing to the forehead. Ideal for hands free work at workshops and sites. Ready to use supplied complete with 3 AAA batteries
Benefits:
Unique design for comfortable and easy hands free operation.
Comes with world class 3W CREE LED light
Has a beam distance of upto 100 mtrs. with built in zoom feature with magnification from 1X to 2000X
Easy to carry Compact size and adjustable head position ensures proper working
LED consumes almost ¼ th of the power consumed by a normal filament bulb hence, it is again a "Green Initiative"
Does not work on filament design hence LED lasts much longer compared to conventional bulbs as they never get fused
3 Modes: Low, High & Flash
Highly durable ABS body for long life
Comes complete with 3 AAA batteries. Batteries last upto 6 hours of continuous use
Safety Kit For Workers
| | |
| --- | --- |
| Helmet | Goggles |
| Ear Plug | |
| Gloves | |
| Apron | |
| Shoes | |